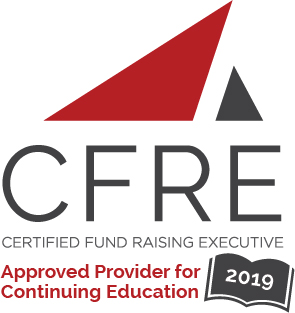 ---
The CFRE Professional Certification Program offers fundraising professionals with 5 or more years of experience an opportunity to earn recognition for their experience and professionalism.

The designation "Certified Fund Raising Executive" (CFRE) is a mark of distinction, providing heightened professional recognition plus greater career options and earning potential for fundraising professionals.

Many AFPGV programs offer CFRE Continuing Education Credit.  Click here to view the CE Points Tracker document.  Please note that AFPGV webinars are also eligible for CFRE CE credit.

The CFRE Exam is now offered at testing sites across the United States and Canada on a regular schedule.  It is held in Rochester several times through out the year at Prometric Test Center located at 3300 Monroe Avenue in Pittsford.  Those interested in taking the CFRE Exam must complete a separate application for certification, and submit it and all fees no later than 60 days prior to the Exam date.  For more information about exam dates and applying for the Exam, contact CFRE International at 703-370-5555 or [email protected].

The AFP CFRE Refresher Course is offered in Rochester, NY every other year. The next course will be held in 2020. Information will be released soon.
The CFRE Refresher Course
The AFP CFRE Refresher Course offers development professionals an opportunity to review the main components of a complete fundraising program. It is an intensive program intended to provide an overview, organized around the domains of the Certified Fundraising Executive (CFRE) exam, rather than on specific fundraising strategies. This course helps participants identify gaps in their knowledge by working through abbreviated case studies referred to as "caselets." Participation in the course may assist individuals in learning or reviewing concepts covered on the CFRE exam as detailed in the Test Content Outline provided by CFRE International on its website.
What the CFRE Refresher Course Is and Is Not
A "refresher" is, by definition, instruction that serves to reacquaint one with material previously studied or to bring one's knowledge or skills up to date, - American Heritage® Dictionary of the English Language, Fifth Edition. © 2016 by Houghton Mifflin Harcourt Publishing Company
The CFRE Refresher Course is designed to do exactly that. The course provides ample opportunity for applying previous knowledge to fundraising scenarios in an active, engaging learning environment. It is not a review for the CFRE Exam. No sample test questions will be available.
Rationale for the Approach to the Course:
The course approach is a variation of the flipped classroom and blended learning models.
As EDUCAUSE writes:
During class, learners can inquire about content, test their skills by applying knowledge, and interact with one another in hands-on activities. During class sessions, instructors function as coaches or advisors, encouraging learners in individual inquiry and collaborative effort.
In a traditional classroom, learners focus on capturing lectures and there is little time to reflect – much less digest and act – on what is being discussed. By devoting class time to application of concepts, instructors have a better opportunity to detect errors in thinking, particularly those that are widespread in a class setting.
Who should attend?
The course is intended for intermediate-level fundraising professionals who want a relatively quick yet comprehensive 8-hour or 16-hour overview of fundraising principles at a step above the fundamental level, and who seek assistance in learning or reviewing concepts covered on the CFRE exam.
What will participants learn?
Following active engagement during this course, participants will be able to:

Brief Description of the Course
The AFP CFRE Refresher Course consists of an introductory chapter and six content chapters corresponding with the six CFRE test domains. Each domain chapter opens with a list of the domain competencies appearing in the CFRE Test Content Outline. Key knowledge areas for each domain – also from the Test Content Outline – follow, each with space allowing the participant to reflect and make personal notes for how much s/he knows about each area and what needs further study.
After a brief review of key concepts by the facilitator, participants will discuss caselets that provide an opportunity to apply key knowledge areas to real-life situations. This "case process" is all about synthesizing and applying accumulated experience and knowledge – exactly what individuals will be asked to do on the CFRE exam.


CFRE Education Points
Full participation in the 16-hour version of the course, with more time for interactive discussion, is applicable for 16 points of CFRE Credit in Category 1.B.

Testimonials

"I definitely recommend the CFRE Refresher course for anyone interested in taking the exam, or for professionals who want to get a sense of where their strengths and weakness exist in their knowledge of fundraising. The instructors were all very knowledgeable and offered great feedback to help attendees understand the perspective of the exam administrators. I also really value the connections I made with my fellow fundraisers in the class!" - Danielle Abramson Swartz, Associate Director of Major Giving, WXXI Public Broadcasting Council

"The CFRE was on my professional bucket list for quite some time and learning that the review course is now offered over two days helped me make the decision to register for it. I'm so glad I did! The course offered the opportunity to hear exam structure, topics, and test taking tips from local certified professionals. I learned so much for all of the content presenters.The review book alone is worth it's weight in gold!" - Jaime Anderson, MA, CFRE, Senior Director, Development, American Lung Association of the Northeast

"CFRE credentials are for those who have discovered that their "job" as a development officer is actually turning into a profession that they enjoy and find fulfilling.  Take the realworld learning you have acquired through trial and error and apply it to the credentialing process.  It may help you get the next raise or a better position, but more importantly you will get a real sense of pride in the work that you do." - Steven S. Smith, CFRE, Vice President, Foundation, St. Ann's Community
"Becoming a CFRE was a natural progression in my professional development and to a career to which I have been dedicated for over 20 years.  I felt that becoming a Certified Fund Raising Executive would be an endorsement of the knowledge I had acquired working in this profession." - Tracy L. Schleyer, CFRE, Vice President of Development, ABVI - Goodwill of the Finger Lakes
"Obtaining my CFRE was a way for me to demonstrate my commitment to the professional practice of development; a confirmation that I possessed the knowledge and skills required to serve the philanthropic sector; and an understanding of the ethical standards by which the profession is bound." - Rachel C. Wicks, CFRE, Development Professional
"I was skeptical about getting my CFRE at first, not appreciating its value. Having my CFRE has opened many doors and the review course and test helped me solidify my knowledge of fundraising today." - Eric T. Shoen, CFRE, Director of Gift Planning Rochester General Hospital Foundation